As the business world becomes more globalized, international team management becomes more critical, requiring solutions to various legal and regulatory concerns. In this blog post, we'll explain why Employer of Record (EOR) services are crucial and how Agile Hero's Global EOR can simplify global team management for your business.
Understanding Global Employer of Record
Employer of Record (EOR) plays a significant role in global employment, and it's vital for businesses expanding globally. Essentially, an EOR takes on all or most of the responsibilities of an employer for international employees. This includes payroll administration, compliance management, and other HR tasks, making it easier for businesses to expand globally.
Why Global EOR Services Matters
Managing international teams without EOR services can be burdensome and risky, especially for those unfamiliar with the local labor laws and regulations. Non-compliance with the laws and regulations can lead to severe risks such as legal consequences and jeopardize your business reputation.
How Agile Hero's Global EOR Simplify Global Team Management
Agile Hero's Global EOR serves as a one-stop solution for businesses with global expansion plans. Our platform simplifies HR and compliance processes, making it easy for businesses to manage their global teams while mitigating legal risks. Our employer of record services provide you with the experience and expertise needed to achieve compliance with local labor laws.
Benefits of Using Agile Hero's Global EOR
Agile Hero's EOR feature offer several benefits to businesses worldwide, including:
Streamlined Processes: Our platform simplifies HR processes while mitigating legal risks.
Risk Mitigation: We help businesses comply with local labor laws and reduce the risk of legal consequences.
Global Expansion Made Easy: With Agile Hero's Global EOR services, businesses can expand their operations globally with ease.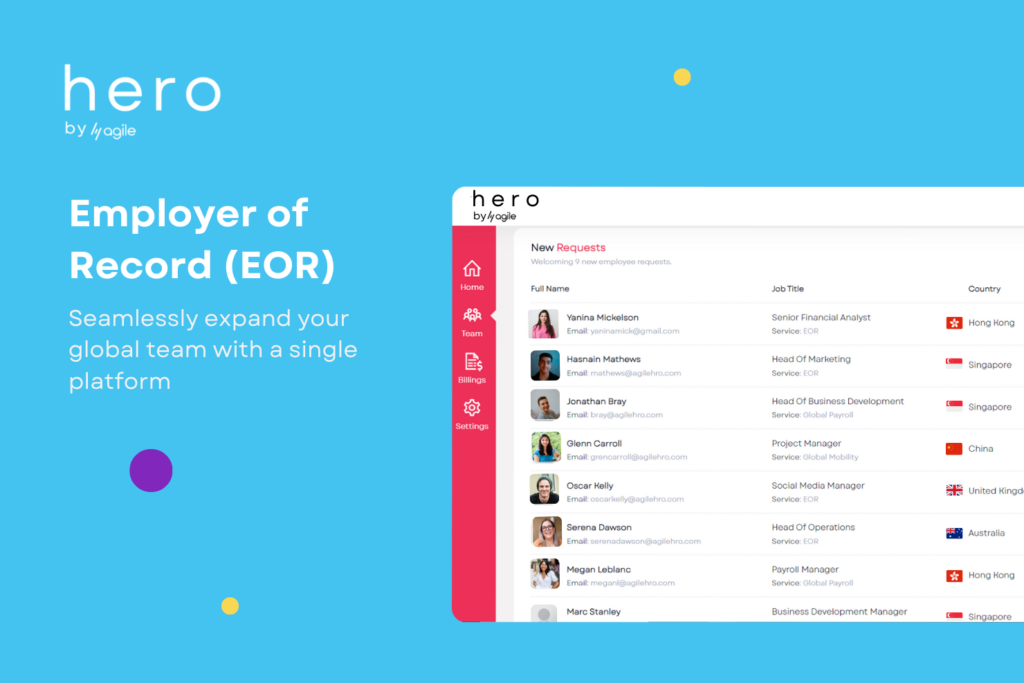 Agile Hero's Commitment to Social Responsibility
Agile Hero's social mission focuses not only on EOR but also on making a meaningful impact on local communities and education. Our partnership program with Caring for Cambodia, for instance, supports one year of a child's education for every year of successful employment through Agile Hero. It's our way of saying that when you work with us, you not only improve your business but also contribute positively to society.
How to Get Started with Agile Hero's Global EOR
Getting started with Agile Hero's Global EOR is simple, thanks to our streamlined onboarding process. Contact us today to schedule a demo or learn more about our services. Our team of experts will be available to assist you every step of the way.
Agile Hero's provides businesses with a reliable solution for managing international teams. By partnering with us, you don't only simplify your global team management, but you also create a positive impact on society. Get in touch with us today to learn more about our services.
Discover how Agile Hero can simplify your international team management. Explore our website or contact us today to learn more about our Global EOR services.